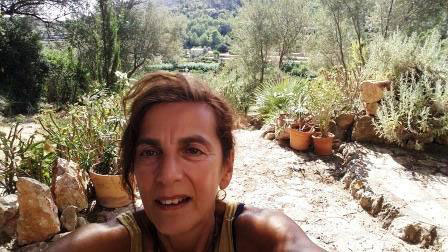 Viviana Guasch
Viviana

Guasch *12.09.1959 Argentine and German artist, graduated in Fine Arts in Germany, she lives and works in Vilanova i la Geltrú, Barcelona
Awards
2018
1st.Prize Professional Painting Contest Bodega Enate, Huesca Spain
2017
Finalist Painting Contest, Fundación Mutua Catalana

, Puerto de Tarragona

Finalist Painting Contest, Seguros de Viaje, Coverontrip, Madrid
2016
"10 years Donart", exhibition of prize

w

inners

in Catalunya "

Premi Donart

" at Museum Centre d'Art Contemporani La Sala.
Participation at

1

.

In

ternationales

Symposium

Sc

hlosskapelle Remplin, Mecklenburg Vorpommern, Germany from 27.06 - 09.07 Subject: Origin.

Works exhibited at the Gallery Schlosskapelle Remplin, Mecklenburg. "La Guardiana and the Pachi" textil sculptures were acquired by the collector of the Museum Schloss Kummerow,

in

Mecklenburg Germany.
2012/13
Elected for her career achievment, 7a edition, convened by the Association of Women

La Frontissa

, and the City Council of Vilanova i la Geltrú and the Instituto Català de les Dones i Caixa Penedés.
Solo Exhibition "Premi Donart", at Museum Centre d'Art Contemporani La Sala, Vng,Barcelona.Its entitled "Abstraction o Reality. Another way to see"
Moves her Studio to Barcelona temporarly to a production Space as a resident artist in "Nauart" introducing herself with othe artists living in Barcelona.
2011/12
Participation exhibition Tramuntanart, Port de la Selva with the Installation"windmills-wishes"
2007/09
She founded and directed "Kunststation Bonn" Germany, a project involving local artists with different themes related to participate, exhibite and work.
1997/09
Teaching in different german Institutions, Artefact Bonn e.V., Brotfabrik Bonn, Kunstforum Palastweiher, Kunstraum and Kunststation, Bonn. Since then she works between Bonn, Catalunya and Toscany where she also teaches and gives different seminars in abstract painting and drawing.
1995
First individual exhibition:Galerie Raum für Kunst, Ratingen (Germany)
1994
3rd Prize revista ARTI-Palette & Zeichenstift. Theme: landscape
1994
ARTI-Palette, Berglisch Gladbach
---
Exhibitions :Solo (selected)
2015
Galerie BunterHund-Berlin, Germany
2014
Galerie Wechselraum, Bonn, Germany
2013
1er Premi Donart – 7ª edición Centre d´Art Contemporani La Sala,Vilanova i la Geltrú,Bcn
2012
Saló d'Art,Fira Reus, Cataluña
2009
Galerie Borssenanger, Chemnitz, Germany
2008
Intention Werbeagentur, Bonn, Galerie Artpromotion Bonn, St.Elizabeth Krankenhaus Bonn, Germany, permanent exhibition by acquisition.
2007
Galerie im Banhof Lennep Remscheidt, Germany
2006
Galerie Denkraum, Siegburg, Germany , La Cucanya, Vilanova i la Getrú, Spain
2005
Galerie Framework, Hennef, Alemania; GalerieBorssenanger, Chemnitz, Germany
2004
Kurfürstlichen Gärtnerhaus Bonn, Germany
2003
Kunstverein Teterow e.V. , Teterow, Germany
2002
Galerie Kunsthalle, Sankt Augustin, Germany
2001
Galerie Möller, Warnemünde, Germany
2000
GalerieKunstKeller, Zúrich, Switzerland, Artefacte.V., Bonn, Kunstzeit e.V. Colonia, Germany
1998
Kulturzentrum Brotfabrik Bonn
1997
DAT-Systemhaus, Ratingen
1996
Evangelische Kirche, Lohmar
1995
Galerie Raum für Kunst, Ratingen
---
Exhibitions: Collective (selected)
2018
Museo Centro de Arte Contemporáno La Sala, Vilanova i la Geltrú, Barcelona Spain
Bodega Enate, Salas Bajas, Huesca. Finalista y 1er Premio de Pintura "Brindanos tu Arte"
2017
Seguros de Viaje, Coverontrip, Madrid. Finalista 14+1 escenas de viaje, Concurso de Pintura
Fundació Mútua Catalana de Tarragona, El Tinglado. Finalista del Concurso de Pintura, Dibujo y Grabado.


2016
Museum Centro d'Art contemporáneo, La Sala. VnG, Barcelona
International Symposium, Galerie Schlosskapelle Remplin, Germany
2014
Talleres Oberts Poblenou, Loft85 Barcelona
2014/15
She meets new artist residents and they create a multidisciplinary Association of Art "Loft85" Poblenou,Bcn.
2013
Talleres Oberts Poblenou, Hangar.org, Nauart, Barcelona
2012
Galerie Am Kamp, Teterow, Germany
2011
TramuntanArt, Port de la Selva, Girona, Spain
2009
Galerie El Pacífico, Stuttgart
Kunststation Bonn, Bonn Beuel
Galerie Artpromotion Bonn, Rkg, Mercedes Benz Bonn
Galerie Sassen HotelDom, Köln.
2007
Kul-Tour,Bonn-Beuel, Germany
2006
Kunstforum Palastweiher, Königswinter, Bonn
2004
Galerie Kunstverein Am Kamp, International Symposium in Teterow-, Germany
2003
GalerieBorssenanger- KeramikSymposium, Waldenburg, Germany
2002
Seetours, Aida Aura, permanent exhibition by acquisition
2001
Kunst im Bau, Bad Honnef, Germany
1997
ABS art-gallery, Eschweiler, Germany
Consulate of the República Argentina in Frankfurt am Main, Germany
1996
Kunstgalerie Bonn, Germany
1992
Kunstforum, Bonn, Germany
Brotfabrik, Bonn
---
Education
1977- Bilingual Bachelor (German-Spanish) Colegio Pestalozzi, Buenos Aires

1979-1981- English and Physical Education Studies at California State University Northridge
1982-1983 - Backpack travelling in Europe and Mexico
1984 - Established in Bonn, Federal Germany
1992-1996 - Obtains the Diploma in Fine Arts, Alanus Kunstochschule, Alfter, Germany
2010-2013 - She takes intensive photography lessons in different schools in Barcelona and takes participation in different seminars at the Macba about Artistic Contemporary Contexts, History of Art and Investigation of Contemporary Art.
Teaching
1999-2009
After her artistic graduation in 1996 she will combine artistic production with teaching, seminars and workshops with specialization in "color and abstraction" in different Institutions:

1999-2007 "Artefact Bonn", "Brotfabrik", "Kunstforum" Palastweiher ", which will allow her to teach and deepen in her painting conception and artistic praxis.

2005-2009- co-founded platforms such as "Kunstforum Palastweiher" and "Kunststation" Bonn, where she involves in projects and workshops for local artists in which she works as an artist, teaches and director.

1994-2009- She participates and collaborates in artistic residences in Mallorca (Andratx) and Tuscany (Castellina in Chianti) for "Artefact Bonn" from year 94 until 2009.
2004-07 She gives seminars in Terra Alta (Bot)

Permanent public works acquired by:
Teterow City Hall, Germany
Seetours Aida Aura, Rostock Germany
St.Elizabeth Krankenhaus (hospital) Bonn
Museum Schloss Kümmerow, Germany